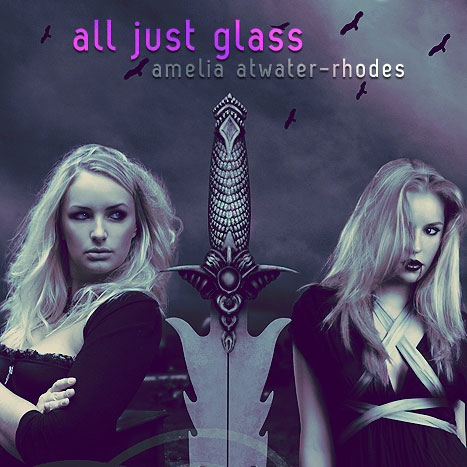 Welcome back, listeners! In the fourth episode of Season 2, B+C is bringing you ALL JUST GLASS. Published in January 2011, this one is out of order from the last ones because it is a direct sequel to SHATTERED MIRROR, #7 in the Den of Shadows but the thirteenth book by Amelia Atwater-Rhodes. We return to the world of Sarah Vida, but now with her sister and cousin also taking center stage.
Despite our pure salt last time, we're really excited to talk about this one! 
Featuring Cyna drinking the mixed drink "Shattered Dreams" (blackberry schnapps, grenadine, Sprite, and grape juice) and Ollie continuing their variation on the "Broken Mirror" here called "Shattered Mirror" (1 part each Absente absinthe, lime juice, and simple syrup, and a sprig of mint). Intro theme - "Let It In" by Josh Woodward. 
Bonus content! Have a gander at Cyna's and Ollie's drink set ups over on Twitter.
Next time: MIDNIGHT PREDATOR, the fourth original Den of Shadows novel!
(1h 37m. Content Warning: Vulgar and lewd language, drinking alcohol, timeline obsessing, and overly dramatic drunk readingsfrom hosts; discussions of violence, present but not intentional sexual assault metaphors from feeding on people, addiction metaphors that get preachy, moral grays, kidnapping, bad coping skills, magical compulsion and removal of agency, personality modification, narcissistic authority figures, blood and lineage being obsessively important, slut-shaming, misogynist vampires, non-consensual feeding on blood, and subtly terrible power dynamics from the book.)
Psst! Want to get B+C delivered to your inbox weeks before it goes live to the public? Become our patron at the $2 or higher level and you are in! Already our patron? Then you know what we're talking about! Enjoy, friends!
Play Now